2 hr 21 min ago
There's extensive shelling in multiple regions of Ukraine, say authorities
From CNN's Tim Lister
Besides the bombardment of Ukrainian defenses in Severodonetsk and Lysychansk, officials say there's been shelling by Russian forces on various other fronts, causing a number of civilian casualties.
In Donetsk, authorities say several settlements came under fire, including the cities of Sloviansk and Bakhmut. Dozens of settlements in the region are without water or electricity.
The government said Thursday that four districts in the Sumy region in north-eastern Ukraine had again been hit by cross border shelling.
There were about a hundred incoming artillery shells from the Russian side. One man died as a result of a munition dropped from an enemy drone," said one official.
Five people were injured and one died as a result of a mine blast in the Okhtyrka district of Sumy, regional authorities said. 
In the south, the district of Kryvyi Rih was shelled, leaving two people wounded. The regional administration said that the town of Apostolove was now littered with cluster munitions. CNN can't verify the claim. 
Authorities said that Russian shelling of villages behind the frontline that runs along the Kherson-Mykolaiv border continued and that inside Kherson the situation was critical in several settlements. 
2 hr 26 min ago
Ukraine needs a Marshall Plan, says German leader
From CNN's Nadine Schmidt in Berlin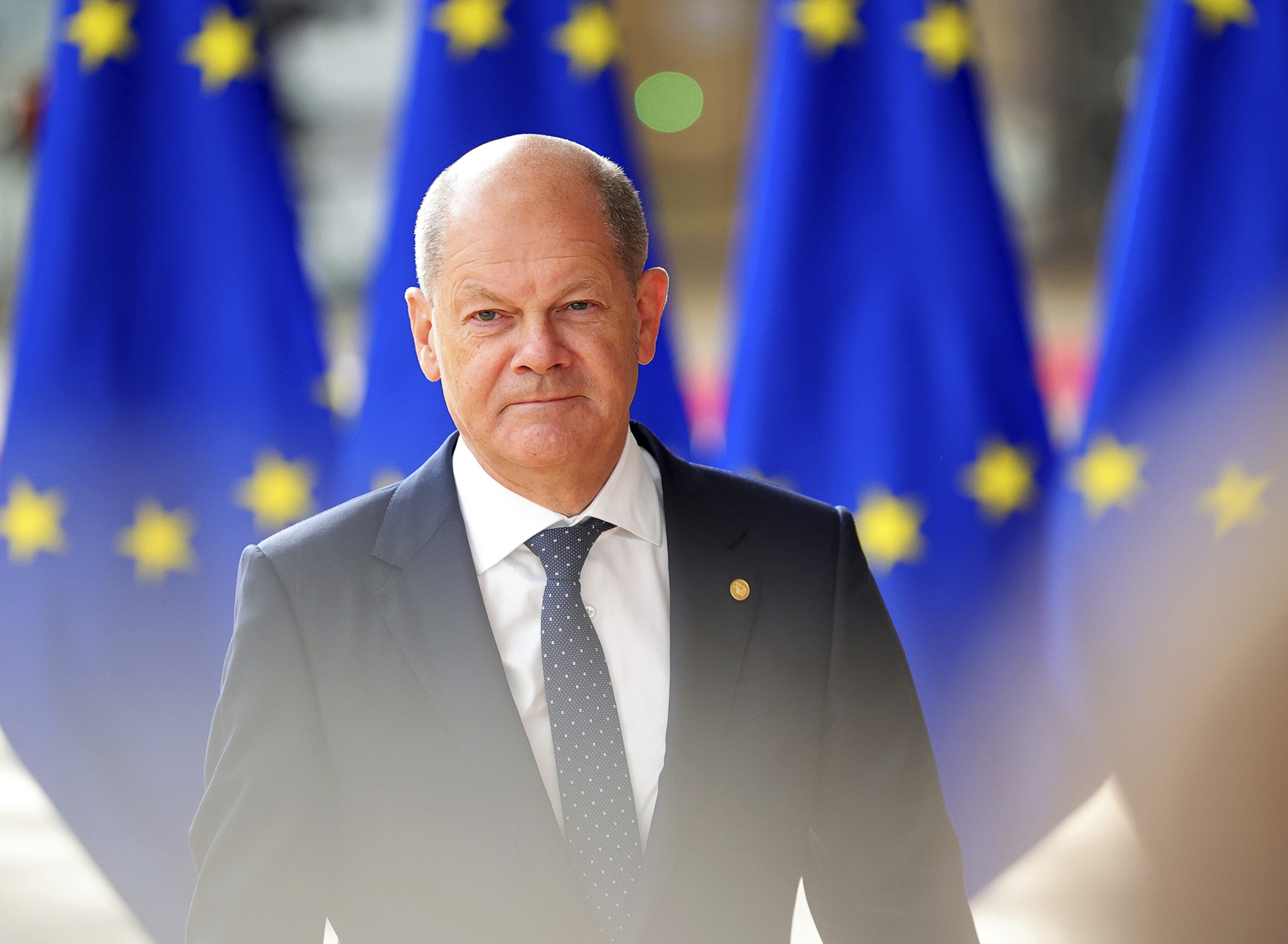 German Chancellor Olaf Scholz announced on Wednesday he wants to discuss the outlines of a "Marshall Plan for Ukraine," with the leaders of the Group of Seven countries at the upcoming summit in Germany.
"Just like Europe was devastated by war, Ukraine needs a Marshall Plan for reconstruction," Scholz told lawmakers at the Bundestag, adding that rebuilding Ukraine would be a "task for generations."
Some context: The Marshall Plan, a US-funded initiative enacted in 1948, helped rebuild Western Europe after WWII. Scholz hopes for a united front on long-term support for Ukraine when Germany hosts the annual G7 summit in Bavaria.
Following his visit last week to Iripin, a Kyiv suburb which saw intense fighting at the beginning of the Ukraine war, Scholz said it reminded him "of the pictures of German cities after World War II."
Billions of dollars would be needed for Ukraine to finance rebuilding over several years, he said, adding that this would only be possible if European nations, other major donor countries and international organizations work together.
Scholz has invited Ukrainian President Volodymyr Zelensky to discuss financial aid for Ukraine with the G7 leaders by video link on Monday.
2 hr 28 min ago
EU leader says Ukraine candidacy decision is "a decisive moment" 
From CNN's James Frater in Brussels and Niamh Kennedy in Dublin 
European Council chief Charles Michel has called Thursday a "decisive moment" for the bloc as EU leaders meet to discuss Ukraine's bid to gain membership. 
"This is a decisive moment for the European Union. A geopolitical choice that we will make today," Michel told reporters on his way into the European Council summit in Brussels.
EU leaders are considering whether to approve the European Commission's decision last week to grant Ukraine EU candidate status. 
The European Council President said he was "confident" that EU leaders will grant candidate status to Ukraine and Moldova and "express a clear and strong" European perspective for both nations. 
European Parliament chief Roberta Metsola also hailed Thursday as a "historic" day, expressing her "hope" that Ukraine's candidate status will be given the greenlight.
"A day where I thought we would wait much longer to have it on paper, and I really welcome the unity and the leadership of the European Union on this," she said.  
3 hr 1 min ago
Ukrainian military publishes video of intense shelling in Lysychansk
From CNN's Tim Lister and Olga Voitovych
The Ukrainian military has released video showing extensive destruction in Lysychansk, the last city in Luhansk region still under Ukrainian control.
The commentary on the video says the city is "half-destroyed by Russian artillery."
Released on Thursday, the video shows rockets embedded in streets and large holes blown through apartment buildings.
The city's roads are deserted — littered with upended vehicles — and the sound of incoming rounds seems almost constant. One sends the film crew running for cover.
In the video, commentary said the Russians have so many weapons they can subject whole neighborhoods to barrages of shelling. 
An unnamed woman whose identity is disguised says: "People die in their apartments, in their homes, in their yards."
A Ukrainian soldier said communications are difficult because the Russians are employing electronic warfare measures, meaning the state emergency service can't reach victims of the shelling, nor organize evacuations.
As a soldier leaves the city in a vehicle, he points out Lysychansk's oil refinery, which he says has been burning for weeks. 
4 hr 9 min ago
Russian forces likely advanced 5 kilometers in 5 days on Lysychansk, says UK Defense Ministry
From CNN's Tim Lister
The UK Ministry of Defence said on Thursday that Russian forces have been advancing on the outskirts of Lysychansk over the past five days.
Since June 19, "Russian forces have highly likely advanced over 5 kilometers (3 miles) towards the southern approaches of the Donbas city of Lysychansk," the MoD said on Twitter in its latest assessment of the conflict in Ukraine.
"Some Ukrainian units have withdrawn, probably to avoid being encircled. Russia's improved performance in this sector is likely a result of recent unit reinforcement and heavy concentration of fire.
"Russian forces are putting the Lysychansk-Sieverodonetsk pocket under increasing pressure with this creeping advance around the fringes of the built-up area. However, its efforts to achieve a deeper encirclement to take western Donetsk Oblast remain stalled."
4 hr 17 min ago
Ukraine claims to have destroyed Russian positions and weapons on Snake Island
From CNN's Tim Lister and Olga Voitovych
The Ukrainian military said it is continuing an operation against the Russian occupation of Snake Island, which lies in the Black Sea and has been occupied by the Russian Navy since the early days of the conflict.
Serhii Bratchuk, spokesman of Odesa regional military administration, said on Telegram there was "good news … our military hit another Pantsir missile system."
The Pantsir is an air defense weapon the Russians have shipped to Snake Island, also known as Zmiinyi Island.
"There is confirmation from the military of the defeat of the military targets of the temporary Russian garrison," Bratchuk said.
"We are talking about two anti-aircraft missile and cannon complexes, we are talking about a radar station, several units of vehicles and several servicemen."
On Wednesday, the Ukrainian Defense Ministry's main intelligence directorate said "the operation will continue until the total liberation of Snake Island." 
The army's Southern Operational Command said on Tuesday it had used "aimed strikes with the use of various forces" on the island.
4 hr 25 min ago
2 more Luhansk settlements fall to Russia as pressure builds on Lysychansk
From CNN's Tim Lister and Olga Voitivych
Russian forces have taken control of two more settlements near the strategic city of Lysychansk in their offensive to capture the remainder of Luhansk region, according to Ukrainian officials.
Shrinking territory: It appears the pocket of territory defended by Ukrainian forces where the regions of Luhansk and Donetsk meet has shrunk further as Russian attacks persist from three sides. 
Since yesterday Loskutivka and Rai-Oleksandrivka were occupied by the enemy," Serhiy Hayday, head of the Luhansk region military administration, said on Thursday.
Both villages lie to the southwest of Lysychansk and are within 8 kilometers (5 miles) of the main highway linking Lysychansk with the west.
Russian offensive: In its operational update for Thursday, the General Staff indicated that the Russian focus was now on seizing the highway.
The Russians were "trying to seize the dominant heights in the area of ​​Berestove in order to establish control over the Bakhmut-Lysychansk highway" and had brought in an additional tactical battalion group," it said.
In neighboring Severodonetsk: Hayday said Ukraine continues to "deter the Russians" but "the occupiers are destroying industrial facilities."
"The Russian Army is 'liberating' Severodonetsk from life and jobs," he said.
Missiles and shelling: Lysychansk was shelled several times on Wednesday, with several settlements around the two cities suffering air and missile strikes, Hayday said. Despite the shelling, some civilians had been evacuated from Lysychansk and humanitarian supplies were being brought in to the city.
Aiming for full control: The Ukrainian military said on Thursday that "the enemy is concentrating its main efforts on establishing full control over the city of Severodonetsk, conducting offensive operations to surround our troops near the city of Lysychansk, and blocking the main logistics routes."
It said the Russians were also preparing to bridge the Siverskiy Donets river.
4 hr 19 min ago
Russian state media says 2 Britons and Moroccan are preparing death sentence appeals in Ukraine
From CNN's Irene Nasser and Josh Pennington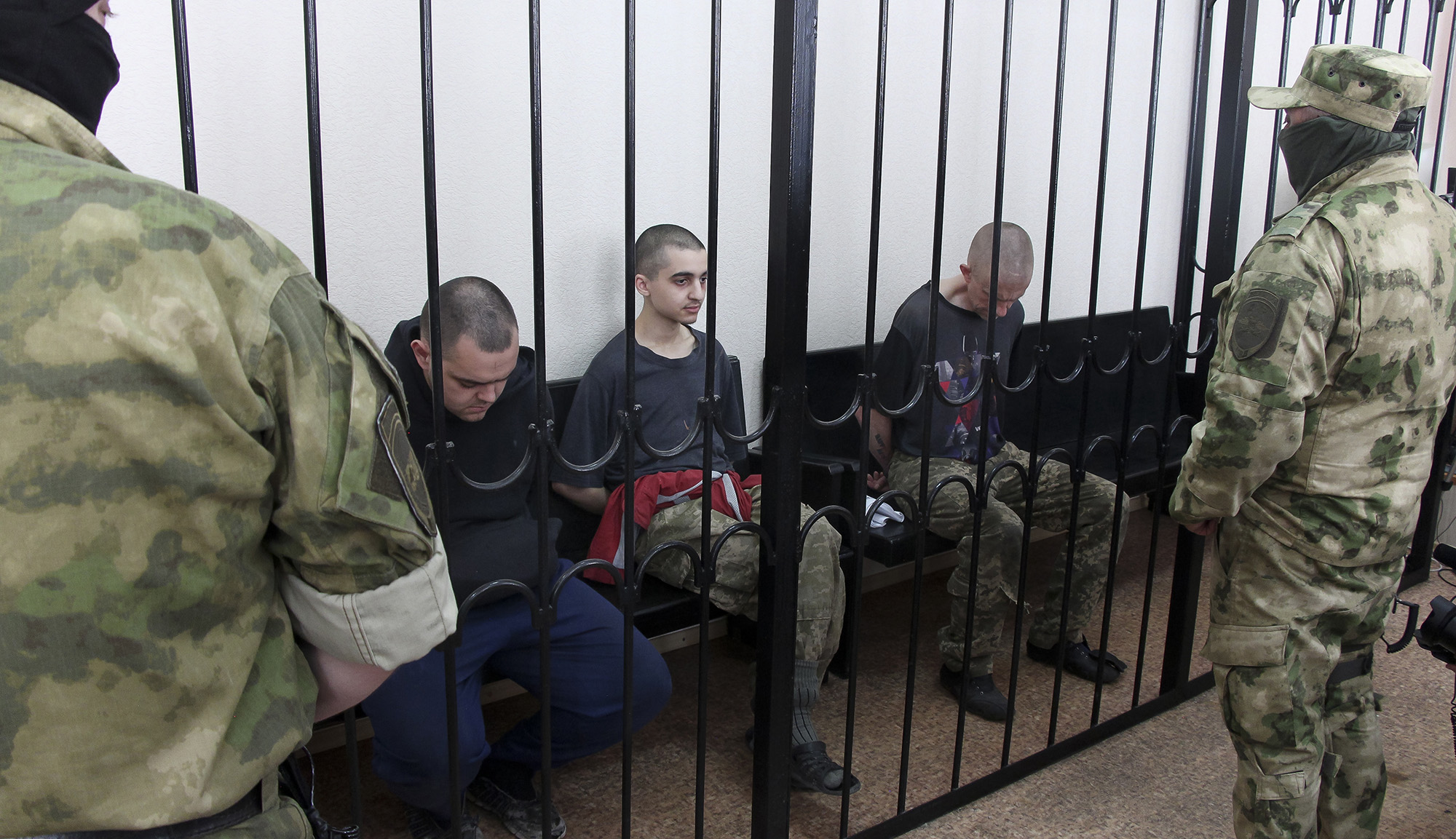 Two British nationals and a Moroccan held in the pro-Russian, self-proclaimed Donetsk People's Republic (DPR) are preparing their death sentence appeals, according to Russian state news agency TASS. 
British citizens Sean Pinner and Aiden Aslin, and Moroccan national Brahim Saadoune were sentenced to death earlier this month after being accused of being "mercenaries" for Ukraine.
DPR authorities said the three men were foreign fighters who had been apprehended by Russian forces in the southern city of Mariupol in April. Russian state media outlet RIA Novosti reported that Pinner, Aslin, and Saadoune will be shot.
Pinner's lawyer told TASS her team is preparing documents to file an appeal, adding that if it's rejected, a petition for clemency will be filed. 
Read more on their case here.
6 hr ago
It's 8 a.m. in Kyiv. Here's what you need to know
A crucial two-day summit kicks off in Brussels on Thursday with European Union leaders meeting to decide whether to grant EU candidate status to Ukraine.
Here are the latest headlines on Russia's war on Ukraine.
The EU question: The 27 leaders of EU countries are expected to support granting  candidate status to Ukraine and Moldova but it could be a "long process," according to EU officials. Ukrainian President Volodymyr Zelensky said he spoke with 11 European leaders on Wednesday, asking for their support on the eve of the summit.
Donetsk destruction: Ukraine's forces control less than half of the country's eastern Donetsk region, a regional military chief said Wednesday, adding that more than a hundred cities and villages within these areas had no gas or electricity. Some 55% of the region, which is under occupying forces, is "completely destroyed," said Pavlo Kyrylenk, head of the Donetsk regional military administration.
Putin at BRICS: Russian President Vladimir Putin appeared via video link to the virtual BRICS Summit hosted by Beijing, saying Russia is rerouting trade to "reliable international partners" such as Brazil, India, China and South Africa as the West attempts to sever economic ties. The summit is Putin's first international forum with the heads of other major economies since he ordered the invasion in Ukraine in late February.
Kaliningrad tensions: Lithuanian Prime Minister Ingrida Simonyte said Russian claims of a rail blockade of its territorial outpost in Kaliningrad are a "lie." Lithuania, she said, "is complying with the sanctions imposed by the [European Union] on Russia," adding that necessary goods like food and medicine are still being transported to the exclave.
Missiles hit Mykolaiv: The southern city was struck by seven missiles on Wednesday, killing one person and injuring two, according to city and regional officials. A school, a five-story building and private businesses with "fuel and lubricant materials" present were affected. "The whole city is covered with black smoke," the city's mayor said.
Kharkiv casualties: In the northeast, 10 people were killed and 10 others wounded in Russian strikes on Ukraine's second-largest city, according to Oleh Syniehubov, head of the Kharkiv regional military administration.
Battle for Lysychansk: Russian forces have captured ground around Lysychansk, the last city in eastern Luhansk still controlled by Ukraine, as they step up their bombardment of the region. The Institute for the Study of War, in its latest daily analysis of the battlefield, said the Russian breakthrough from the south means they "may be able to threaten Lysychansk in the coming days while avoiding a difficult opposed crossing of the Siverskyi Donets River."
About Post Author